Best of Breiðafjörður Circle - 6 Day Bike Tour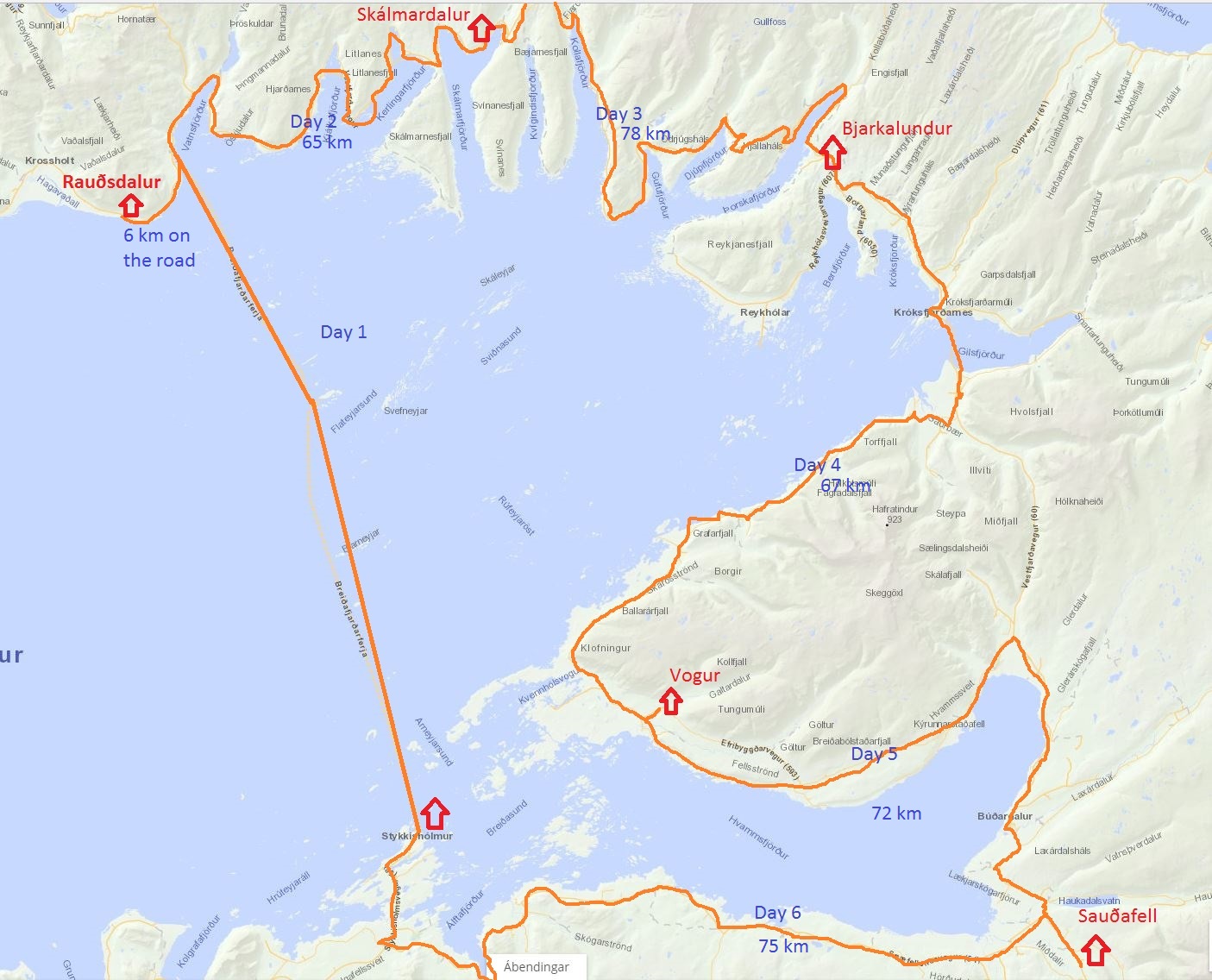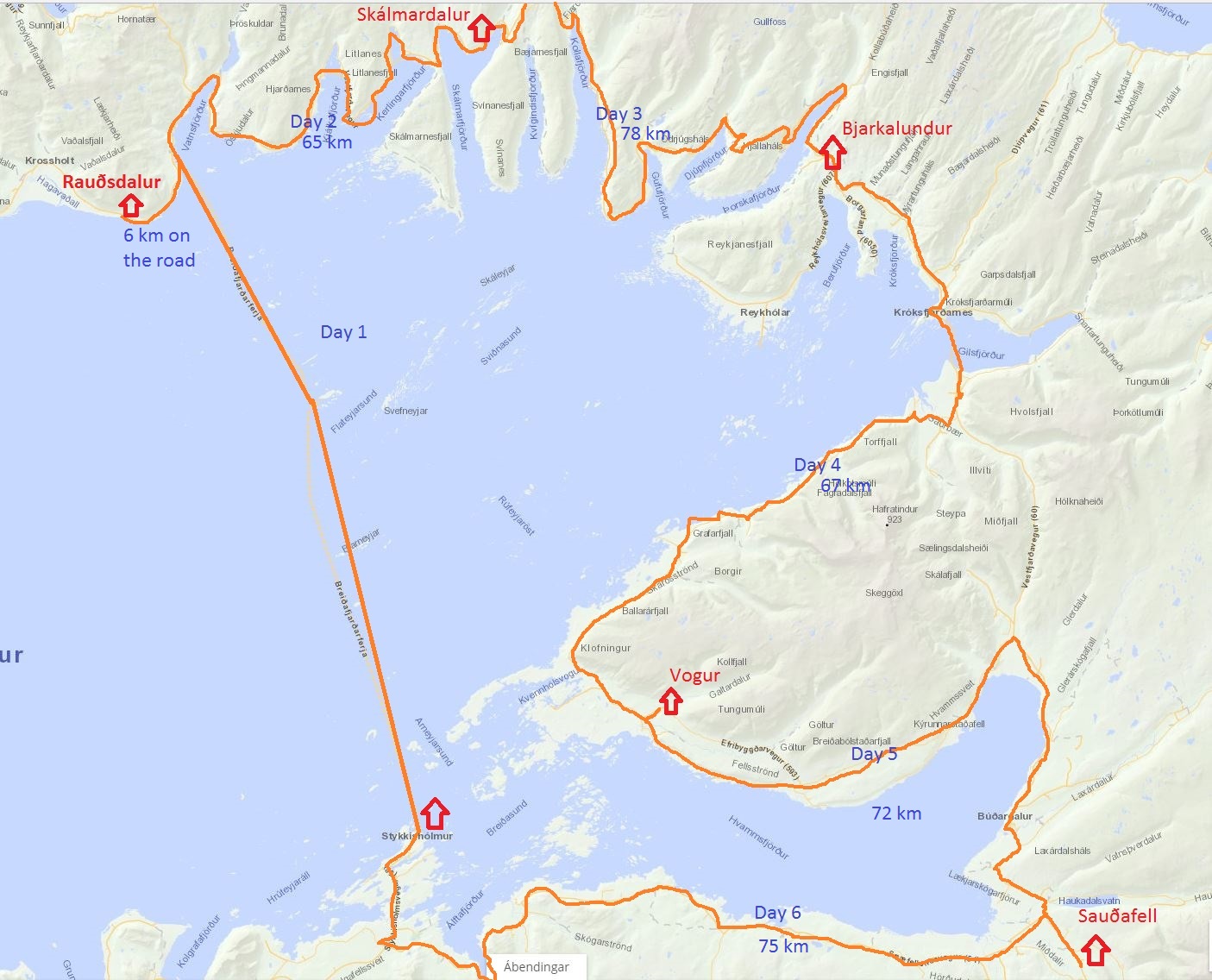 Best of Breiðafjörður Circle - 6 Day Bike Tour
6 days in a broad variation
No area of Iceland can offer such a broad variety in outdoor life, nature, history and culture as Breiðafjörður (The Broad-bay). As a matter of fact the area has been a cultural centre through many ages but in modern times it has stayed free from overwhelming industrialization. It is a kind of remote area with some stretches of gravel roads but the nature is still the same: Countless islands; Flatey and skerries with flourishing bird life, resources from the beach and sea and the farmers continue to be warm and friendly.
Physical difficulty level: 3-4 (Scale 1-5)
Dates and prices
June - August 245.000 ISK
Special dates can be requested by groups larger than 10 persons and they get a 10% discount if they book three months in advance. Give us a call or send us an e-mail if you are fewer than 10 people in a group.
Group size: 10 - 14
What's Included
A bicycle and helmet.
Luggage transport
Entrance to the ferries, museums, swimming pools and hot tubs.
Accommodation (sleeping bag 1 night + made-up beads 5 nights) and full catering (breakfast, lunch and dinner) during the round trip back to Stykkisholmur.
11% VAT to the Icelandic state.
Contribution to Icelandic forestry and landcare trough

The Kolviður Fund /

Forests

English and Scandinavian speaking Icelandic guide.
Not Included
Accommodation in Stykkisholmur and breakfast before the first day. (Please let us know if you need help to find your best choice: http://visit.stykkisholmur.is/)
The detour to the waterfall Dynjandi. We can't guarranty that we will get the shuttle on site.
Meeting and starting point
8am down by the harbour in front of the restaurant: Sjávarpakkhúsið. The ferry leaves at 9am.
Itinerary
Day 1 (travel time: ca 10 hours): Before the ferry; BALDUR departs from Stykkisholmur at 9 am, we will distribute and adjust the bikes and ensure everyone has sufficient travel gear. Our first destination is the island Flatey, which is the largest of the many islands, an old cultural and commercial centre of the area. We will stay there for about 6 hours while we wait for the ferry's second trip over the bay. The connection to nature and history is obvious here and the atmosphere of the island has attracted many artists and filmmakers like Baltasar Kormákur with White Night Wedding. In the afternoon we go further with the ferry to Brjánslækur, also a historical place with ruins we believe can be over 1000 years old. From the ferry landing there are only 8 km to our first overnight lodging Rauðsdalur where Maggy will make us a nice dinner.
Day 2 (65 km): Leaving at 8:00 am, we cycle from Rauðsdalur to the crossroad and guesthouse Flókalundur. Here we take a short detour (1-2 hours) by car to the beautiful waterfall Dynjandi. During the detour we will get a better overview of the venue of the saga: Gísla saga Súrssonar which took place here. The outlow and his tragic destiny will follow us more or less the coming days. When we get back to the crossroads we hopefully will find the ranger in the protected area we are approaching: Vatnsfjörður. Our next accommodation will be the hunting lodge in Skálmardalur which we will manage just for our self. Dinner will be cooked up jointly with good help from our caring hostess; Maggy.
Day 3 (78 km): After a good rest we are setting out at 8:00 am from Skálmardal for the hill; Klettsháls (332 m high and 11 km long) Don't worry! We know, by experience, we will be rewarded on the other side with a nice slope and paved road all the way to Skálanes at the tip of the peninsula. We will make a short stop at the farm to hear how the farmers in this remote area are doing and their prospects for the future, i.e. the road connection which has been debated for years. After we have passed over Gufufjörður (Steam fjord) we get to Djúpifjörður (The Deep Fjord) where we take a brake and can dip in a swimming pool at Djúpadal. Before we get to Hotel Bjarkalundur, our next lodging, we have to pass one more ford; Þorskafjörður (The Cod Fjord) which contains several historical places.
Day 4 (72 km): This day we leave the West Fjords and turn over to the Dales. That county has been a venue for some of the most famous Icelandic sagas, like Laxdæla Saga, packed with love and hate. Many of our most celebrated writers and poets have also been born and raised here, i.e. Snorri Sturluson and Sturla Þórðarson. We continue biking and we can see how the landscape and geology are changing the further we get to the south. We head out to Skarðströnd and we can look forward to a late lunch at Ytri-Fagridalur, where we will enjoy the hospitality of the organic farmers; Halla and Guðmundur. We continue to Nýp for a short visit and chat with the couple Sumarliði (a historian-scholar) and Þóra (a pottery-professor). Cycling continues to Skarð, a centre of eiderdown which is a natural commodity even more valuable than gold. The route lies through Klofningur, where a fantastic view of the islands and peninsula of Snæfellsnes awaits. Our forth host; Guðmundur and Sólveig at Vogur will be waiting for us where they have recently transformed a cowshed and a barn to a warm and welcoming accommodation.
Day 5 (72 km): We continue our biking around the fjord, now for example to the church of Dagverðarnes or to the artist Helgi Þorgils (if he is available). The second half of the day is needed for crossing the fjord back to Stykkisholmur with the boats Ocean Safari, between the skerries and islands. We will need to take the tides into consideration so the time of departure can vary from one day to another. - This part of the round trip is an opportunity to get really close to wildlife and nature. The circle of the spinning comes to a close in Stykkisholmur. - We believe there is a consensus on that this area must be one of the most beautiful places in the country. - NB: It happens that boats are not available from Stykkisholmur for the sailing. In such cases we take overland road around the boot Hvammsfjörður so our next accommodation will be in the little town Búðardalur. (65 km) The price will be the same.
Day 6 (86 km): This will be our longest day and distance in our journey around the broad bay. One of the remarkable things to study during this day are all the place names along which refer to forest. Unfortunately no forest to be seen though. See HERE why. We have some initiatives today in this area in the regreening process, mainly enthusiasts from outside, but some of the farmers are still not collaborating. - The older and newer Icelandic SAGAS are always close and part of the landscape.
Some extras...
If you arrive at Keflavik Airport as a group and do so before 5 pm., we can pick you up at the airport and you will have time for a short visit to the BLUE LAGOON on the way to Reykjavik. In Reykjavik (45 min. drive) you will be able to catch the scheduled bus to Stykkisholmur (2 1/2 hour) at 5:15 pm. - Accommodation in Reykjavik varies in standard (select for your choice).
If you choose one or two more nights in Stykkisholmur and enjoy the European Destination of Excellence. - We can offer you day-tours at Snæfellsnes. Take a look at our day-tours.
Buss back to Reykjavik daily at 7:40 am. On Sundays 03:15 pm.